Mientras, cuando antes de, hasta que… we know these connectors can cause a few headaches, so we've prepared an easy guide to help you figure them out with lots of practical examples. Let's get started!
Conectores Temporales:
Time connectors help us provide a time setting for recurring, past, future and simultaneous actions.
We use time sentences in the MODO INDICATIVO when discussing recurring actions, past actions or a specific moment in time.
We use them in the MODO SUBJUNTIVO when discussing future actions or actions related to an undetermined or non-specified moments in time.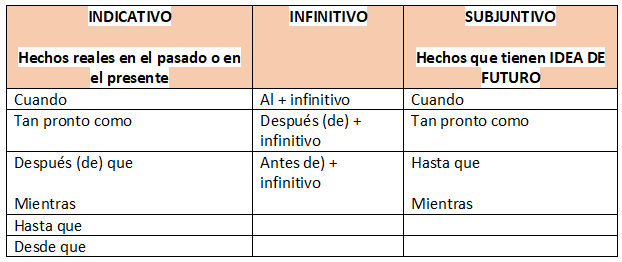 Out of these connectors, the most frequently-used one is CUANDO.
Examples using Indicativo:
CUANDO tengo tiempo, me gusta descansar. When I have time, I like to rest. (Recurring action in the present).
CUANDO llegué a la casa, me di cuenta de que había olvidado las llaves. When I arrived to the house, I realized that I'd forgotten the keys. (Real situation in the past).
CUANDO tenía tiempo, me gustaba ver películas. When I had some spare time, I liked to watch movies. (Recurring action in the past).
Ellos escuchaban un podcast MIENTRAS preparaban la comida. They were listening to a podcast while preparing the meal.
Somos amigos DESDE QUE nos conocimos. We've been friends since we met. (This connector indicates the beginning of an action. We use it only with INDICATIVO)
Examples using Infinitivo:
AL VIAJAR en autobús, me duermo. = Cuando viajo en autobús, me duermo. When I travel by bus, I fall asleep.
ANTES DE volver a casa, compré el pan para el desayuno. Before I got home, I bought some bread for breakfast.
DESPUÉS DE TENER una siesta, me siento mejor. After taking a nap, I feel better.
Examples using Subjuntivo:
CUANDO viaje a Estados Unidos, te visitaré. When I travel to the United States, I will visit you.
Ellos regresarán a su casa ANTES (DE) QUE comience a llover. They will get home before it starts raining. (Present subjunctive used to talk about the futuro)
Ellos regresaron a su casa ANTES (DE) QUE comenzara a llover. They got home before it started to rain. (Past subjunctive to indicate an action that hadn't taken place yet).
Te esperaré HASTA QUE regreses. I'll wait for you until you get back.
Quédate en mi casa MIENTRAS te quedes en la ciudad. Stay at my place while you're staying in town.
Activities for private students & members: 
This content is locked
Login To Unlock The Content!