Conjugación verbos regulares: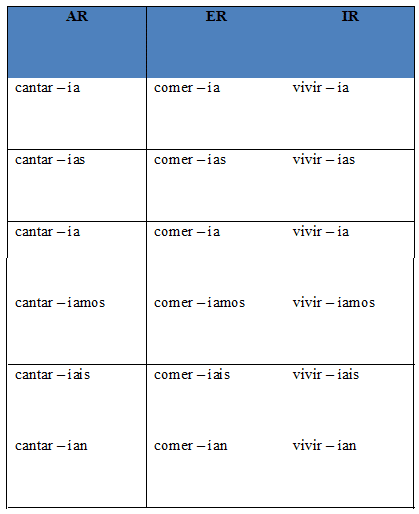 Conjugación verbos irregulares:
salir: saldría
saber: sabría
poner: pondría
haber: habría
poder: podría
caber: cabría
tener: tendría
decir: diría
venir: vendría
hacer: haría
valer: valdría – valdrían
querer: querría
1. Se usa el condicional para expresar la posibilidad de una acción que puede estar en presente o futuro:
Yo no viviría en una ciudad demasiado quieta como ésta. = Posibilidad presente o futura
Tú no te pondrías este vestido ni por todo el oro del mundo porque no es tu estilo. = Posibilidad presente o futura
De ganar la lotería, ellos se volverían locos = Posibilidad futura
Si ganaran la lotería, ellos se volverían locos. = Posibilidad futura
2. Se usa junto con el estilo indirecto para expresar un hecho pasado con relación a una situación futura.
Ella nos informó que harían una reunión entre todos los excompañeros.
Tú dijiste que los obreros recibirían un seguro social obligatorio.
3. El condicional expresa cortesía o amabilidad:
Podrían ayudarnos a solucionar este dilema porque nosotros ya no tenemos ninguna idea.
Tendrías la amabilidad de cerrar todas las ventanas porque está lloviendo.
Me gustaría invitarte a tomar un café.
Serías tan amable de traerme todos los documentos que te pedí.
4. El condicional se lo usa para expresar sugerencia:
Ustedes deberían asistir a la conferencia que se dictará en la sede de los Trabajadores Sociales.
Sería bueno que visitaras ese museo.
5. Se lo usa para expresar deseos (con los verbos gustar, querer, desear):
Me gustaría comerme un gran plato de mejillones con una ensalada.
Los niños desearían comerse un helado de chocolate.
6. Se usa el condicional para expresar hipótesis en el pasado:
– ¿Quién sería la persona que llamó por teléfono?, el número no está registrado en el teléfono.
– Sería el dueño de casa.
Activities for private students & members:
This content is locked
Login To Unlock The Content!