We know el verbo QUEDAR can be quite tricky, so we have prepared an easy guide to help you build up your Spanish.
Veamos primero las diferentes conjugaciones de QUEDAR: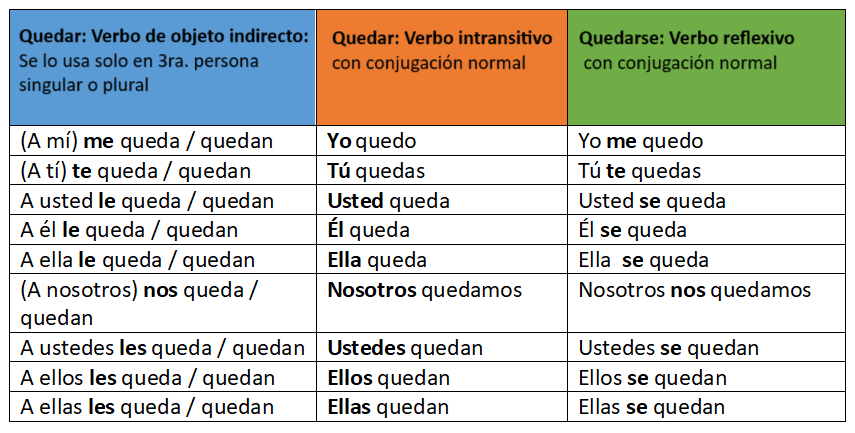 Arriba podemos observar las formas de conjugación del verbo quedar en sus distintas maneras. En el cuadro sólo hemos puesto los modelos de conjugación en el tiempo presente, pero podemos usarlos en todos los tiempos (presente, pasado, futuro, etc).
Usos de QUEDAR:
1.  Quedar significa tener algo todavía:
Nos quedan dos libros más por leer.
Me queda una manzana más. ¿La quieres?
2. Quedar en + Infinitivo: tiene el mismo sentido de concertar una cita o acordar algo:
Nosotros quedamos en encontrarnos en el café a las 7 p.m.
Ellos han quedado en ir al cine para mirar la película Oppenheimer.
3. Lo usamos con estilos de ropa, colores, tallas y peinados: 
Te queda bien el color rosado brillante.
A Rosita no le quedan bien estos zapatos, están muy grandes.
4. Quedarse: En este caso, es un verbo reflexivo que significa permanecer en un lugar. Su conjugación es normal: 
El abuelo se queda con nosotros los fines de semana.
Ustedes van a quedarse en el hotel por dos noches.
5. Quedarse + gerundio: Permanecer en un lugar desarrollando una acción:
El jefe se quedó trabajando hasta el amanecer.
Yo siempre me quedo leyendo hasta las 10 p.m.
6. Quedarse + adjetivo: Expresa un cambio de estado.
Mi madre se quedó tranquila cuando supo que pasé el examen.
Ellos se quedaron dormidos en el sofá porque estaban cansados.
Continue to build up your Spanish on our Grammar Bites section! Click HERE to get started!
Activities for private students & members: 
This content is locked
Login To Unlock The Content!