Los verbos de emoción pueden estar en diferentes categorías: verbos de amor, de dolor, de enojo, de miedo, de alegría, de preocupación, de sorpresa, etc.
Expresión de sentimiento + INFINITIVO = MISMO SUJETO:
Me encanta salir de fiesta con mis amigos.
Nos alegramos salir de excursión a las montañas.
Expresión de sentimiento QUE + SUBJUNTIVO = DIFERENTE SUJETO:
Me disgusta que lleguen tarde a las reuniones.
Siento mucho que las cosas no marchen sobre ruedas.
Hay verbos que solamente los usamos en 3ra. persona singular, como es el caso del verbo gustar. Los usaremos con los pronombres de Objeto indirecto: Me, te, le, nos, os, les + gusta.
Otros verbos tienen conjugación normal como el verbo amar: amo, amas, ama, amamos, aman.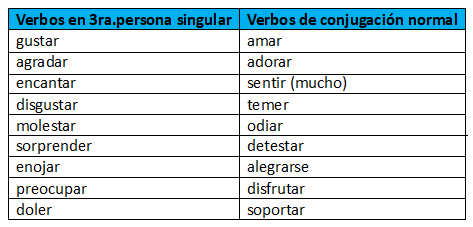 Activities for private students & members: 
This content is locked
Login To Unlock The Content!